If you're in need of treatment for your back, you might wonder, is there a Spring Texas chiropractic near me open today? It's a totally reasonable question. After all, we completely understand, when someone experiences pain they usually want it to go away. When it comes to the spine, there is no one better than a chiropractor to help relieve pain. Our practice has spanned over a hundred years doing just that. Today North Houston Spine & Sports Medicine continues that tradition. We offer a plethora of treatments that range from your normal regimen to new and diverse options you may not have heard of. That's why we want to recommend our services to those who may be feeling pain. If it's in the spine, or the arms and legs, even in the neck, we have remedies that can put you at ease.
Our Practice
At North Houston Spine & Sports Medicine, wants to rebuild their clients. It is an amazing feat to help our patients. Usually, they are dealing with immense pain, restriction and maybe even confusion simply over how to heal. Regardless of the condition, the owners Theresa and Dr. Timothy Runnels can get people the extensive care that they need.
Dr. Runnels is an excellent chiropractor who has been in the field for over 20 years. They first founded this practice in 1999 in Houston. However, in 2005 they moved to Spring, Texas where they are still helping clients today. Dr. Runnels is also a certified acupuncturist, so that means you'll also have the option of getting acupuncture treatment. This sort of diversity is what makes our venture so successful and effective.

What Type Of Services Do We Offer?
Spinal Decompression
If you are dealing with pain from spinal joints, nerves, or muscles, we can help! A spinal decompression treatment will be able to work with all of those symptoms. The service will consist of stretching your back out to realign the different aspects of your spine. This can alleviate the pressure caused by poor posture or injury to muscles. That subsequently helps reduce pain or inflammation as well as the pressure on nerves. These, in turn, will increase the flow of nutrients through the body and bring a lot of mobility back to the client.
Acupuncture
This ancient Chinese practice uses small metal needles to stimulate chemical reactions in the brain and help musculoskeletal systems run smoother. By placing needles into your skin at very specific locations, the brain can be triggered to release "feel good" chemicals. These can aid in reducing pain, lowering inflammation and generally bringing wellness to the patient.
Spinal Adjustments
For this treatment, the chiropractor applies a force and pressure upon your joints. He is able to increase flexibility, reduce pain and pressure simply by moving them past their range of usual motion, or pressing them back into place. It can be very effective in mitigating some of the sores and aches that you may be feeling on a day to day basis.
Trigger Point Therapy
This revolutionary technique is similar to acupuncture, in that it uses certain needles to hit the points in the body in need of treatment. The difference is that for this therapy, only the areas that are actually damaged get attention. These areas are called trigger points because they contain muscle knots or bruises that need direct relief. Applying pressure to these particular triggers has shown to bring about faster recovery.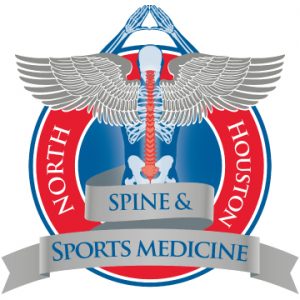 We Offer Free Consultations And Free Spinal Adjustments!
In addition to all of the wide-ranging offers that we provide our clients, we want to just go the extra mile in proving that we have the best options in town. In order to give you the best service, we have also added the ability to get a free consultation before you even visit. Other offices will actually charge you to get expert medical opinions. As for North Houston Spine & Sports Medicine, we want you to be aware and knowledgable about your injuries. This way if you do decide to get an appointment with us, we can know ahead of time exactly what your issues are. This can lead to a fast and effective treatment that can get you back on your feet sooner rather than later.
Also, when you do get appointments with us, you will get a free spinal adjustment for each session that you have. It's simply a courtesy we'd like to extend. This sort of treatment can aid immensely in healing but really, it's a spectacular preventative measure that can help you stay in peak physical fitness.
Contact Us Today!
North Houston Spine & Medicine has excelled for over 20 years, trust our service, let us relieve your pain. Treatment of our quality is still not truly available in a widespread manner, so take the chance to enjoy our craft today! We offer discounts for senior citizens, veterans and even children. We are grateful to provide you with full access to these offers. Our chiropractic care has truly made powerful impacts on people's lives. We can help return you to full health and also encourage your best performance. If you're looking to come walk-in please feel free! This courtesy is our gift to the modern world, we are happy to provide immediate service when clients need it most. If you want to visit our location it's at 5643 Treaschwig Road in Spring, TX 77373. Otherwise, you can check out our website or give us a call at (281) 443-1287. We look forward to seeing you soon!
FUN FACTS ABOUT SPRING TEXAS
The city of Spring was #5 on CNN Money Magazine's most affordable places to live
Spring Texas is located in two counties – Harris County and Montgomery County
No zoning laws – this increases the importance of subdivision deed restrictions
Majority of Spring Texas subdivisions have their own community pools, parks, and playgrounds. Engineers design them to be able to accommodate a large influx of families.
Old Town Spring consistently voted one of the top attractions in Texas
To learn more about Spring Texas, click here!