Houston TX anthem chiropractic is in your area. North Houston Spine & Sports Medicine accepts Anthem Blue Cross insurance. All we ask is to please update your member ID card for blue shield. We'll be sure to take care of you. If you're in an accident and your spine is affected, we can make the spinal adjustment you need. By calling us, we'll make sure your visit is worth your time. If you have sustained an injury during an auto accident, you can see us. We're proud to offer our comprehensive services for you.
After all, accidents can get dangerous. You need a helping hand to get you out of your predicament. North Houston Spine & Sports Medicine, we'll be able to help. Also, by partnering with an insurance company like Anthem Blue Cross, we'll get you the coverage you need. Whether you sustain a sports injury or pain while you're home, we can help. Our professional staff has years of experience when it comes to back pain. We offer cold laser therapy, acupuncture, and more! More importantly, we don't only focus on the back. Our holistic approach is best as full-body care contributes to your overall comfort.
Therefore, by getting us to treat your chiropractic needs, we can make sure your whole body feels relieved. We believe when it comes to chiropractic care, the spine isn't the only part of the body that needs attention. Because of the way the musculoskeletal system is made, its connection with the nervous system can become more tricky to handle than most patients may know. After all, your spine connects to a network of nerves responsible for motor functions throughout your body. You can feel pain in your arms and legs or other parts of your body.
Sports-Related Injuries
Though prominent, auto-accidents aren't the only situations, we treat. For example, when a sports injury occurs, it requires surgery. Our rehabilitation program is a process we undertake after the surgery. Also, if your injury isn't severe enough to have surgery, we can help. As independent licensees of the Blue Cross company, we can treat you while giving you affordable health care. Hence, we have the best Houston TX Anthem chiropractic giving you the results you need. Dr. Timothy Runnels d everything in his power to get you back to yourself again.
After all, Dr. Runnels used to be a personal trainer. It's because of his work with athletes in the past is why he was inspired to become a chiropractor. A common misconception of a chiropractor is that we work only on spinal health. However, that isn't exactly true. As previously mentioned, there are nerves connected to your spine. Hence, any pain you may experience with your legs, arms, or other parts of your body could be related to your spinal injury. In a sense, we take care of any damage you may have that requires physical therapy.
Even if your issue isn't immediately related to the spine, we still offer assistance. For instance, if you require surgery for your leg, we're here for the aftermath of rehabilitation. With our therapy, your leg training will be more effective. Additionally, we use muscle excitation that will send electric impulses to specific groups of muscles. Your muscles then contract lightly that encourages healing. Depending on the injury, we could be working with you on a day-to-day or weekly basis. We work on all parts of your body to get you the feeling back that you desire. After all, our spine is vital in our physical actions.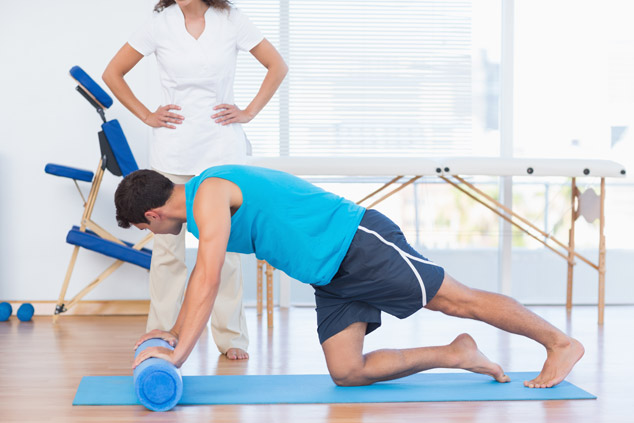 Other Services We Conduct
Believe it or not, but you can exhibit pain caused by stress. Chronic stress causes your body to "turn on itself," so to speak. Tension can gather in trigger points, causing discomfort. Your trigger points require attention and healing, so your pain can be relieved. Stress affects the state of your body and can make a bad situation worse. Try not to ignore the messages your body sends you. Another common cause of back pain is pregnancy. Post-birth symptoms also affect millions of women. Imagine carrying an extra life around that stretches the confines of your body.
Giving birth is a gift, but the effects can be straining – literally. During pregnancy, the baby provides discomfort to the mother. The extra weight concentrates on the lower back and hips. Plus, women who don't have developed hips as their peers can experience even more pain. Our chiropractic treatment is beneficial for pregnant women even after their pregnancy. Our services are made to relieve pain or discomfort caused by incidents or everyday stresses. Therefore, when you come to North Houston Spine and Sports Medicine, you know you're in good hands.
Additionally, we can relieve pain caused by disability or disfigurement. If you're suffering from cerebral palsy, muscular dystrophy, scoliosis, or other back pain problems, our practice can help. If your issues revolve around skeletal, muscular, or the nervous system, we assist with your pain as they relate to one another. There are so many potential causes for back pain due to the skeletal structure's sensitive feature. If you have an issue that deals with chiropractic services, don't hesitate to call us at (281) 443-1287. Our Houston TX Anthem chiropractic won't hesitate to make your life better through therapy. The last thing we want is for you to deal with unbearable pain for the rest of your life.
Houston TX Anthem Chiropractic Services
If you have any of the mentioned conditions, don't hesitate to give us a call. We're open Monday through Thursday from 10 a.m. to 1 p.m. and 3 p.m. to 7 p.m. During our business times; we dedicate ourselves to our patients. After all, we're here to help, and our services reflect that fact. The next time you need a chiropractor in Houston, Dr. Runnels will aid you. Our twenty plus years of experience dealing with chiropractic, auto accident, and other injuries dealing with physical pain. Here, we care about your well-being. Let our Houston TX anthem chiropractic relieve your pain today!
Houston TX Fun Facts
Houston was the capital of Texas from 1837 to 1839.
The Galleria is the city's largest shopping mall.
Houston is one of the busiest ports in the nation.
For more fun facts, click here!